Exploring Gujarat
Gujarat does not cease to surprise ever. Having explored the seas, the forests, the deserts, the barren expanses, the tribal life, the arts and crafts, the cuisine, nature's gifts, mountains, rivers, markets, cultural diversity, monuments, excavated ancient cities : do we have anything left that is yet to be explored? What if we told you that you haven't yet visited the Jurassic World of Gujarat? Would you believe that there is a treasure trove of dinosaur fossils right inside the heart of Gujarat? And that the fossils excavated here are of Rajasauras and Rahiolisaurus as well as the long necked Titanosaurs – the giants from the Dino world? A visit to the Balasinor Fossil Park will leave you completely spellbound. You have to see it to believe it, the dinosaur bones are all right there for everyone to see! And as surprising as it may sound but Balasinor is the 3rd largest Dinosaur fossil park and 2nd largest Dinosaur hatchery in the world!!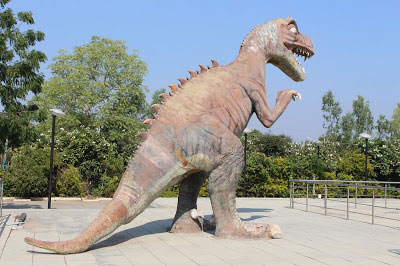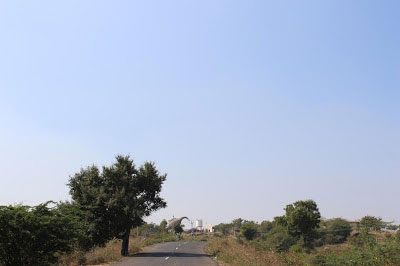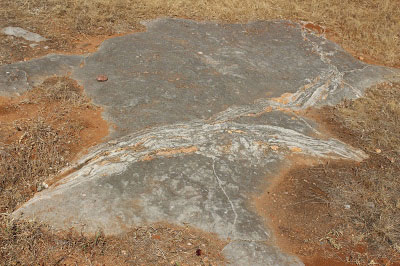 Jurassic Traces in India
Dinosaur fossil sites in India are found in the Narmada valley across Madhya Pradesh, Rajasthan and Gujarat. Millions of years ago the Narmada nurtured what today is a dinosaur graveyard as geologists like to refer to it as. Thousands and thousands of dinosaurs lived, bred and thrived here. A natural calamity caused their sudden extinction. The theories are many and you need to have a great storyteller in a guide to make the most of your visit to Balasinor. Write in to us if you want to hear the stories from the lady who worked tirelessly day in and day out to bring the Dinosaurs of Balasinor out there in the open for all to see and housed them in a thoughtfully curated Dinosaur Museum. Princess Aaliya Sultana Babi of the erstwhile ruling family of Balasinor has been pivotal in getting the excavated site it's due. We shall be happy to arrange your personal tête-à-tête with her.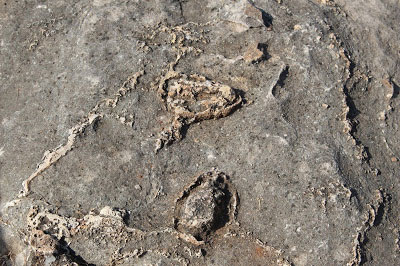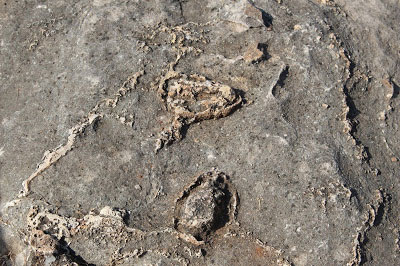 First Glimpses
Make it an exciting trip and feel the rustic rural countryside on your way to Balasinor. Through the rural belt of central Gujarat crossing many small and big hamlets and settlements, finally taking a narrow snaking road through Balasinor and Rahioli to reach the Balasinor Dinosaur Fossil Park. The first sight that meets the eye is a museum complex on the main road itself where a dinosaur sculpture greets the visitors. The museum has opened its doors to visitors and takes a break only on Mondays for the necessary upkeep. Housed here is a collection of fossils and literature about the Rajasaurus narmadensis and Rahiolisaurus gujaratensis. It also has information and pictures of the dinosaurs from India as well as the world. There is a kids section that teaches all about Dinosaurs in a very interactive and fun way with visuals, 3D imagings and games.
A brief History
Dinosaur fossils were first discovered from Rahioli- Balasinor area by Mr.Dwivedi and Mr.Mohabey in 1983 during the course of systematic geological mapping. Mr.Mohabey also found the first dinosaur eggs from this area from a cement factory's quarry. Later, Mr.Suresh Shrivastava, as team leader with Geological Survey of India was assigned the task to excavate the fossils. Soon, more palaeontologists and geologists descended on the land and confirmed that this probably is the largest reserve of dinosaur fossils in India. Work to unearth the fossils and carbon date them to know more about the discovery began in 1981 and was carried out in intervals till 1999. Geologists and palaeontologists from over fourteen countries partook in excavations and carbon dating and assembling the fossilised skeletons of dinosaurs found here.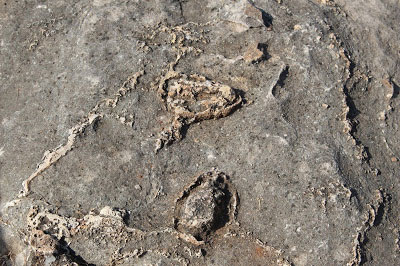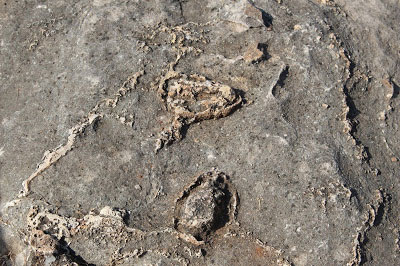 Radio metric carbon dating revealed that the fossils were at least 65.5 million years old and that not just one or two but thousands of dinosaurs are buried here. The fossils are from the late Cretaceous age. The site probably was a nesting ground for dinos as many fossilised eggs huddled in nests are found here. The forest department, Govt. of Gujarat has carefully erected enclosures around the major rocks that contain visible fossils. Walk around these enclosures with a knowledgable guide who with a stick points out the features of the fossils. You can spot a femur, pelvic bones, a knee, cranial cavity, a spine and other unidentified bones.
Extinction Theory
How did the world of dinosaurs suddenly disappear? The theory behind this is that due to an impact of an asteroid hitting the earth, and the repercussions following the impact like climate changes, acid rains, water bodies getting contaminated etc and rising of the dust and heat choking the entire stretch of land, made it impossible for the flora and fauna to survive in those given conditions.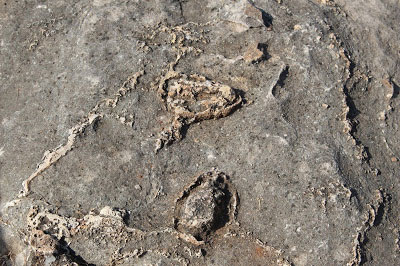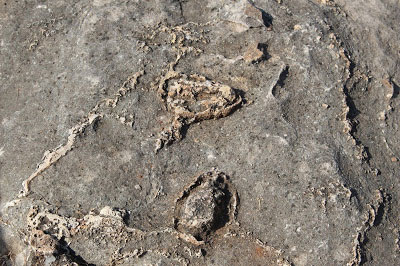 The Fossils
Lots of fossils collected from this park are on display at the museums in Kolkata and Jaipur where the Geological Survey of India has its research centres. As many as approx. 400 bones were discovered by opening seven pits which contained bones of both herbivores and carnivores. More bones were of the herbivores while few were of carnivores but the carnivore bones were more interesting as they found a brain case with jaw and many teeth and a horn and on the basis of these bones they were able to reconstruct a nearly complete skull of a dinosaur not found anywhere in the whole world except for India and in 2003 they announced to the world a new species of dinosaurs calling it the Rajasaurus narmadensis! It measured 30 feet in length (9 meters), height was 2.4 meters and weighed approx. 4000 kgs!! Yes, we are talking about the largest life form that ever walked this planet! They lived in the late Cretaceous period of the Mesozoic era. As many as 75 bones from a single skeleton have been found here. The fossil park is 3rd largest dinosaur fossil park and second largest hatchery / nesting area of dinosaurs in the world! The fossil park is spread over 52 hectares of forest land and is guarded day and night.
Let's visit
Balasinor Dinosaur Fossil Park is an ideal place to visit during your next vacations. Take young and old, everyone with you. Start with the museum where the installations include 3D Projection Mapping, 360 Degree Virtual Reality, 3D Stereoscopic Projections, Interactive Kiosks and a Vivid Display of Triassic, Jurassic and Cretaceous times. Get your pictures clicked with the Life-size sculpture of Rajasaurus Naramadensis, the King of Dinosaurs and go explore the vast Fossil Park. So much of fossilised treasure lays buried here that you don't have to go looking for it, it is all around you, right under your feet.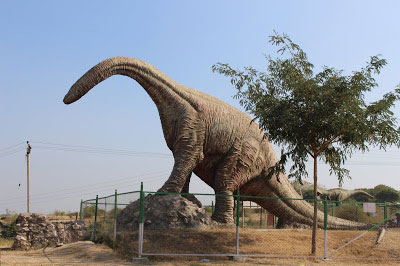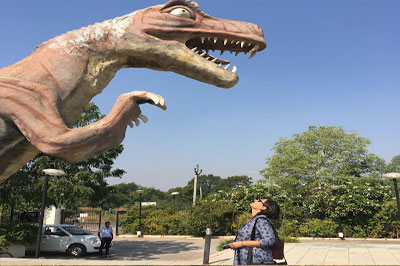 Getting there
Closest cities are Ahmedabad (100 kms), Vadodara (110 kms) and Gandhinagar (115 kms) with airports at Ahmedabad and Vadodara and Railway connectivity to Vadodara, Ahmedabad and Nadiad (77 kms).
Get in touch with us to have a well curated itinerary prepared for you with such hidden wonders woven along, a vehicle at disposal and the most beautiful places to stay.